Laser cutting and engraving are among the most popular methods for starting your production. It is affordable and relatively easy to learn, while possibilities for products and creativity are numerous. Some laser cutters fit on the tabletop and require just preparing a vector design to run. For newcomers to this technology, we gathered this guide on possible projects and materials to sparkle your inspiration.
Many designers express their creativity in decoration projects. These can be made on-demand with custom details like names or just be universally creative. Wall décor provides a wide room for a project scale and possibly the widest range of mediums.
Maps and Terrains
World map from wood by WoodIN
Maps or terrain pieces are a nice touch to décor or a memorabilia piece of a favorite place. There are lots of interesting sights to draw inspiration from and materials to play with to get the desired style. The number one choice is wood as it has an elegant look to it. Woods also easily combine with crafting materials like epoxy resin, metals, and plastics. Terrains can also be 3D printed but that method we covered more here.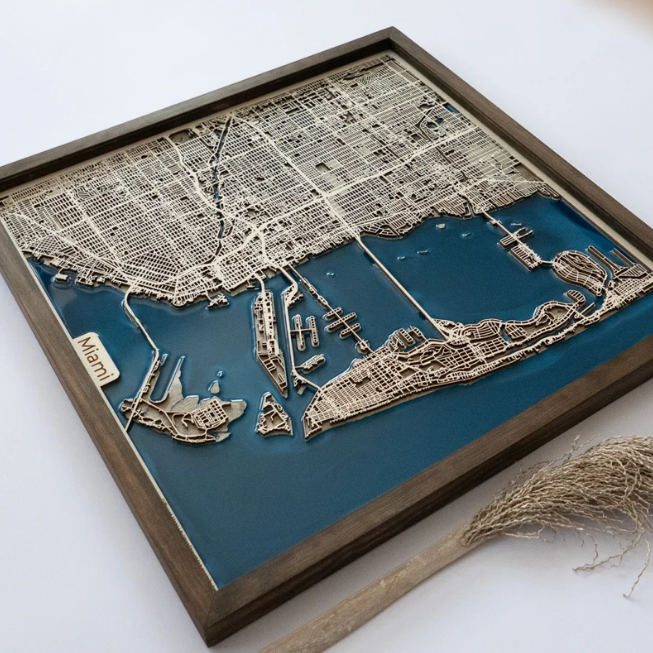 Wooden map with resin for water body by DifferentMaps
Mounted Decorations and Wall Art
These ones come in all shapes and forms from minimal art to detailed pieces. Lasers can achieve extreme tolerances, so even pictures with thin elements can turn out perfectly. Pictures from plastics and metals are quite popular as they suit both home and office. If you have an artist in you, mounted decorations are an interesting avenue for your works.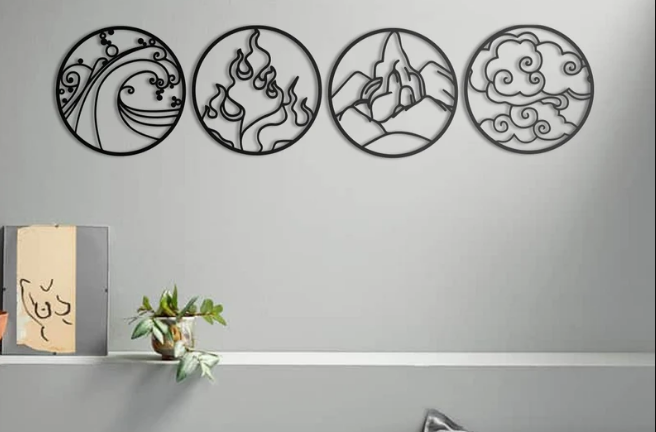 Metal wall art by metalwallartt
Key Holders
A more useful household item, which still allows design freedom, is a key holder. These little plaques with a family name or simply a cheerful design are commonly made from laminate, wood, or thin metal. They can also have more thoughtful features like a small puzzle-like insert for keychains of the same style.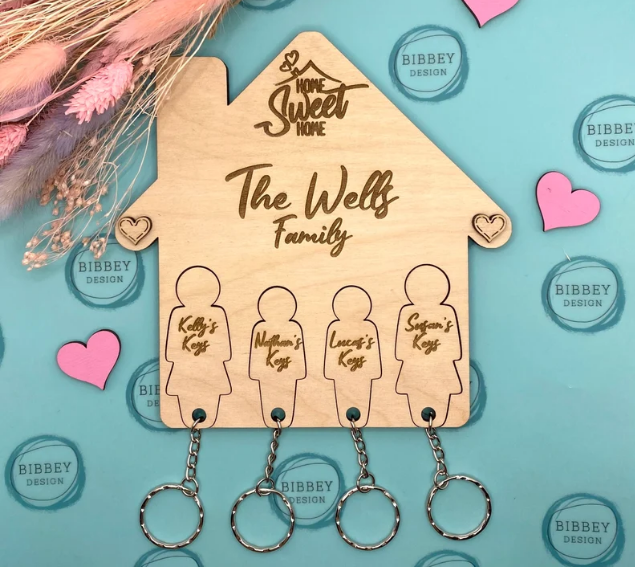 Key holder by BibbeyDesigns
Drink Coasters
Another common household item that is easy to start laser cutting for sale is a coaster. A big advantage is a small size, which means even a small engraver can be used. Coasters are also relatively cheap to make as common materials are cork, plywood, and wood.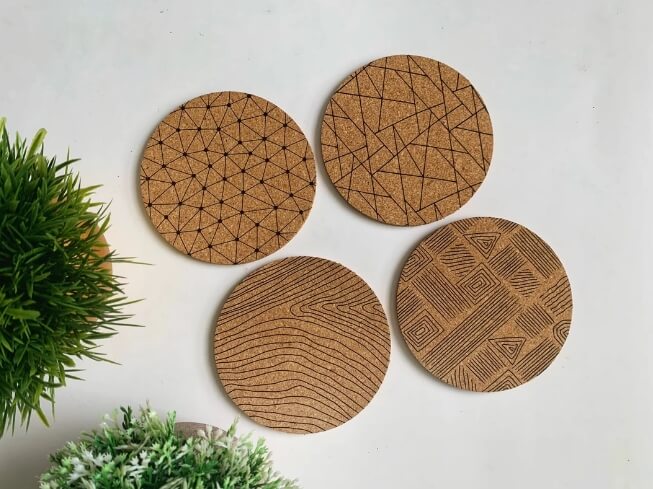 Cork engraved coasters by WoodPeckerDesignCA
Kitchen appliances
Other kitchen appliances can be laser cut, too. A common avenue is to have blank appliances like spatulas and bottle openers (commonly from wood) and personalize them with engraving. Simpler ones like boards can be laser cut from scratch.
Laser Engraved cutting board by the BOKKY company
Embossing roller pins
To transfer patterns on dough bakers use stamps, roller pins, or stencils. They help create cookies and pies for special occasions with fun and pretty patterns. Note that not all cutters work for engraving round pieces like pins.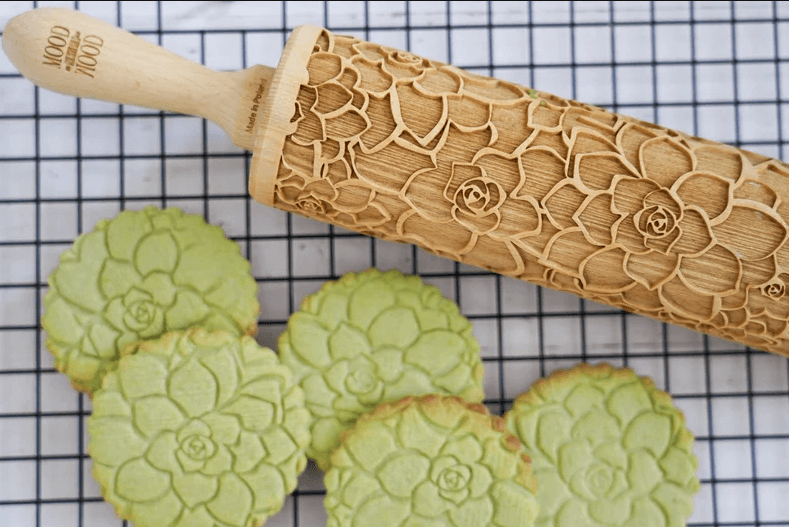 Roller pin with engraved pattern by MoodForWood
Toothpaste Squeezers
Not so many people know about the sole existence of these little helpers, so this is not the most popular product. But it's another small yet fun item to add to your laser cut shop. Squeezers are used to get the last drops of toothpaste or hair dye and come in handy.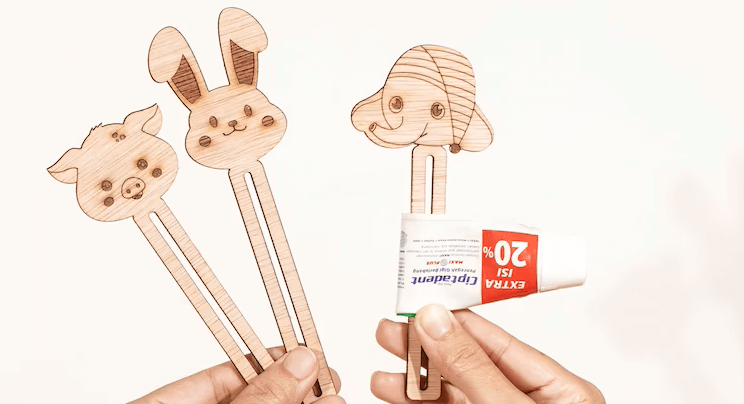 Toothpaste Squeezers by Ideanity
Holders and Mounts
Home organizing can be tricky in a modern world with all the devices and personal items people own. Jewelry, phones and tablets, glasses and headphones – for these and many other belongings it's relatively easy to come up with creative 2D holders. The main goal would be to ensure stable standing while designs can range.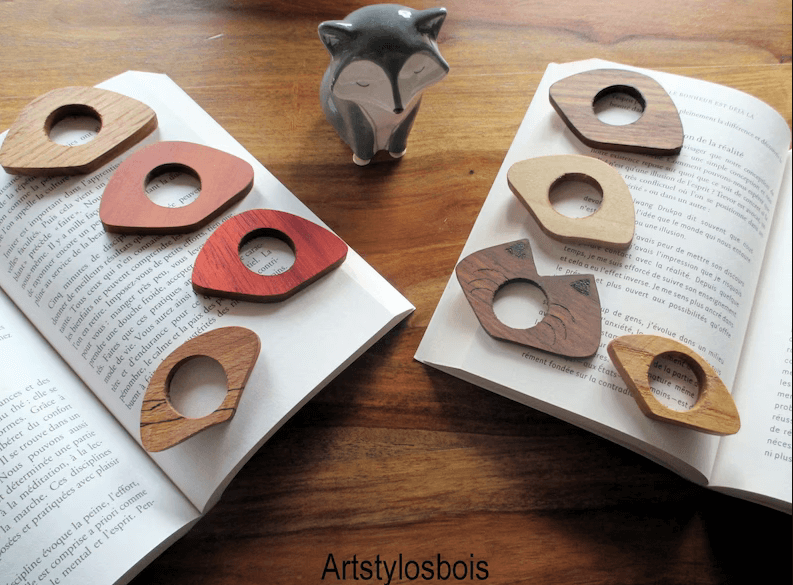 Reading rings by ArtStylosBois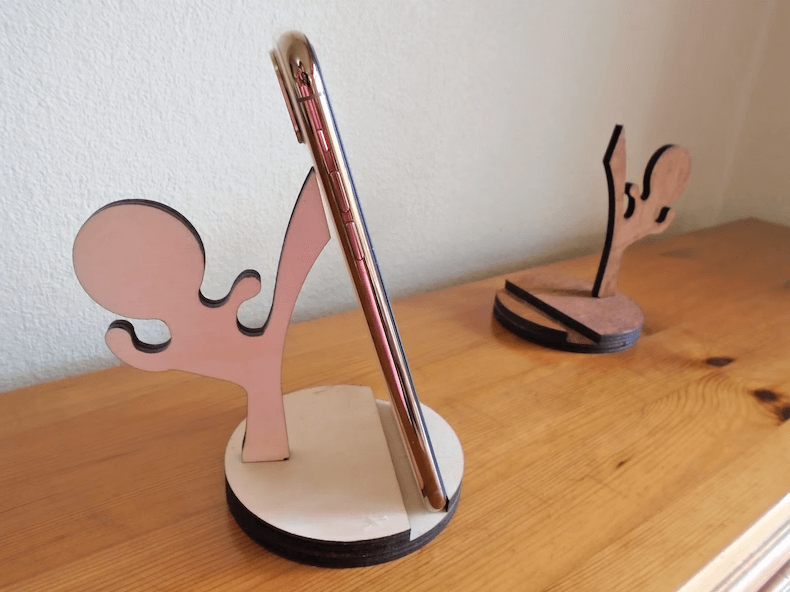 Simple yet creative karate phone stands by BelfieldTreasures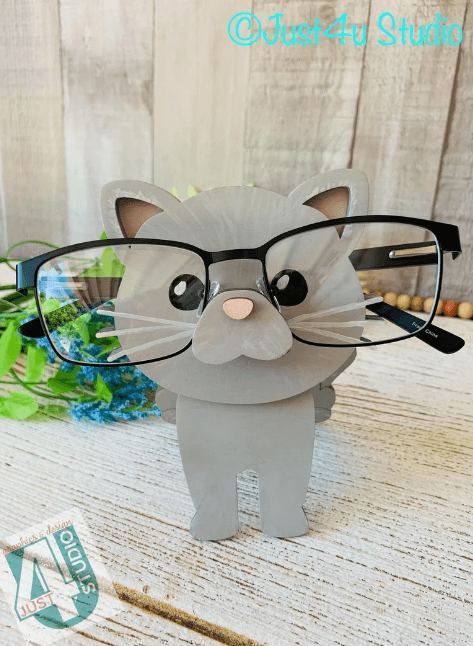 Cute glass holders by KazillionArts
A bit more complicated but so much more rewarding set of projects relates to leisure items. These are all sorts of games, puzzles, toys, or accessories for existing products. For these projects, it will be a great help if you are already a fan of certain game types and have ideas on how to customize them.
Jigsaw puzzles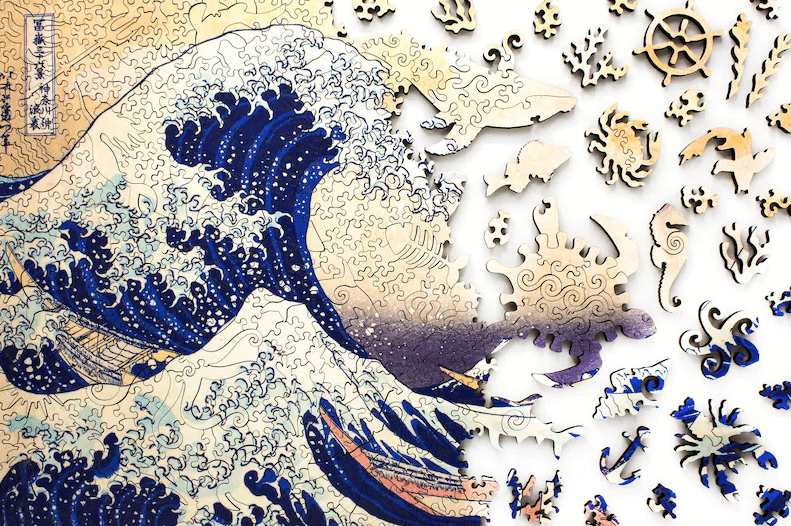 A wooden puzzle by InsideAdventure
Jigsaw puzzles are a popular hobby for people of all ages. And some laser engraved puzzle projects nowadays are close to art with pieces having peculiar designs. They are also a fun idea for gifts and memorabilia, which makes them a perspective item to create. Puzzles can be flat ones or so-called 3D puzzles – the ones that use flat pieces to assemble an object.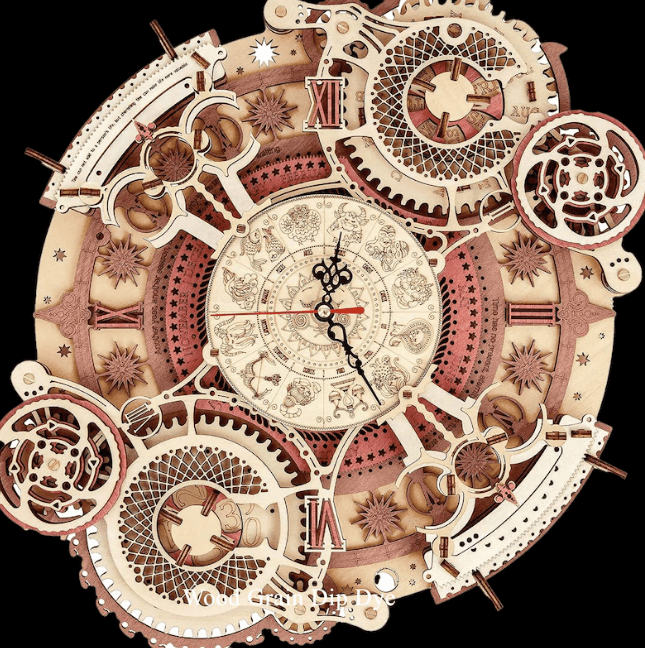 A complex puzzle that assembles into a clock by MurinoStore
Stacking games
Another creative approach is games with stacking pieces. These ones need to be designed in a way that players can balance the pieces on each other. Parts for the game can be laser cut from woods or plywood to avoid being slippery.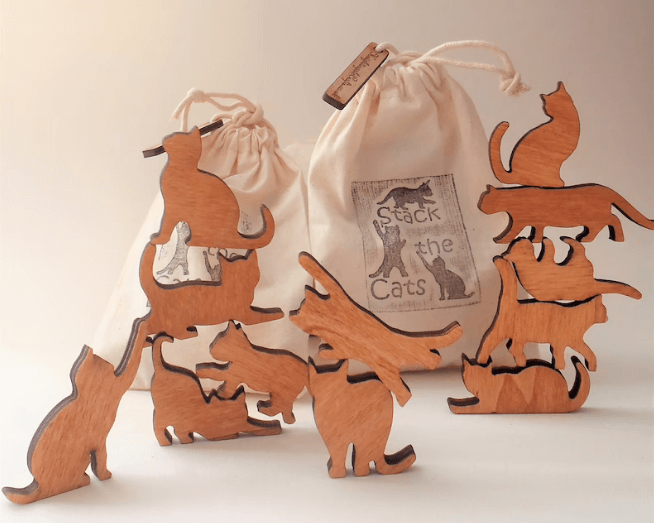 Fun game with cat pieces by KnightingaleCrafts
Game accessories
Coming up with your own game or puzzle is a tricky task. For a simpler start, you can explore ways of customizing some existing puzzles or games. The ones with flat pieces like checkers or card games would suit laser cutting perfectly.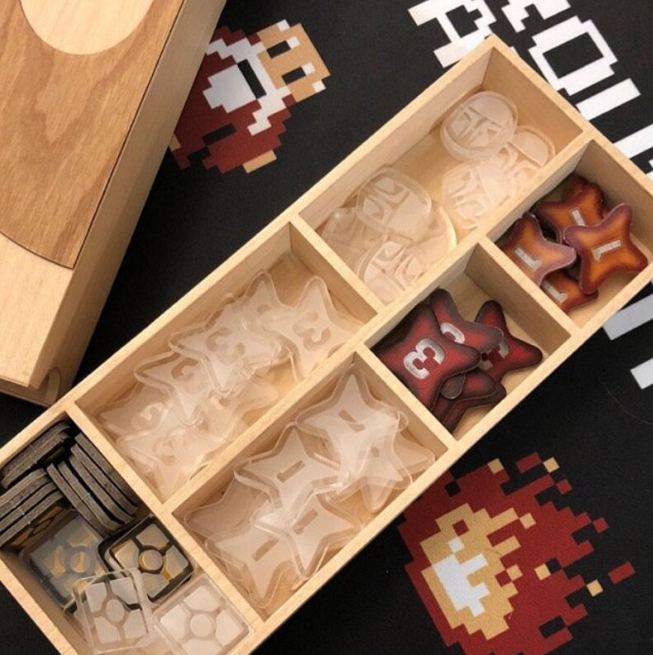 Acrylic tokens for a card game by CutItOutLasers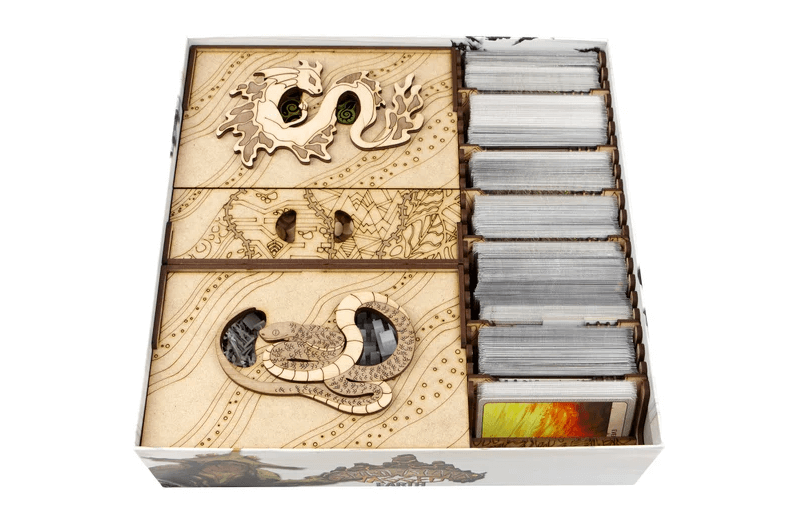 Holder for a card game by TowerRex
Educational toys for younger children
Another simpler design job is to create projects for educational games. Activity boards with simple shape matching, numbers, or words are a useful gift for young children to practice their skills and learn. An important note here is that this set of projects requires the safest materials and piece sizes. Sanded woods from a reputable supplier usually become a fine choice. Also, keep in mind to avoid small pieces that can be swallowed by a young child.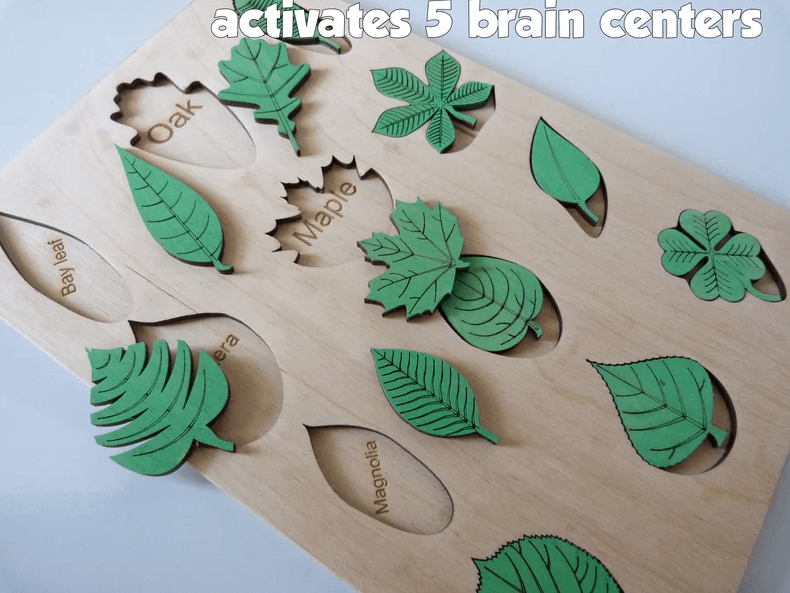 A well-designed development toy by Pwwtoys
Lots of laser cutting enthusiasts find themselves in the jewelry realm - may that be making the pieces themselves to boxes and handling pieces. Lasers can't necessarily deliver work with precious metals but they are good for fashion projects and accessories. A huge range of natural (woods, leather, stone), plastic (acrylics), and non-precious metals (steels, aluminum) fits diverse aesthetics.
Engraved rings and pendants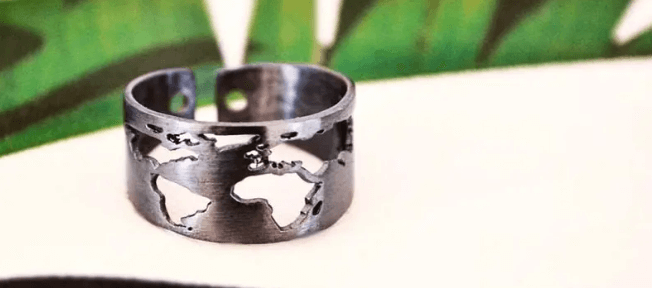 An engraved ring by Bubblebox
Laser cutters and engravers are limited in work with metal as reflective surfaces can't be safely used. However, in the modern market, there are lots of mediums with pretty finishes. Using non-precious materials also makes this jewelry affordable.
Some designers also choose to purchase blank pieces and only engrave them with their own design or a custom name.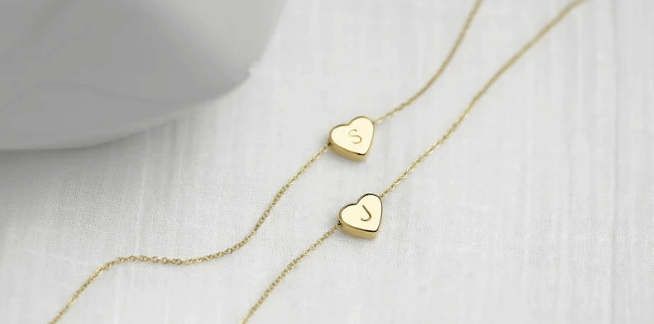 Personalized jewelry by MignonandMignon
Engraved wallets and leather tags
Low power lasers can work on textile and leather materials, which opens possibilities for projects like wallets, cardholders, bracelets, and luggage tags. Natural and faux leather is stylish. It also comes in different hardness/thicknesses, so you can create flexible projects.
Wooden jewelry
Natural materials are becoming more and more popular these days. Stone, wood, cork – these are just some of the widely used mediums. A huge advantage of natural pieces is their unique look, which serves design purposes on its own. With cutting and engraving, you can also shape your project to fit the idea better. For starters, smaller projects may be preferable – earrings, pins, charms.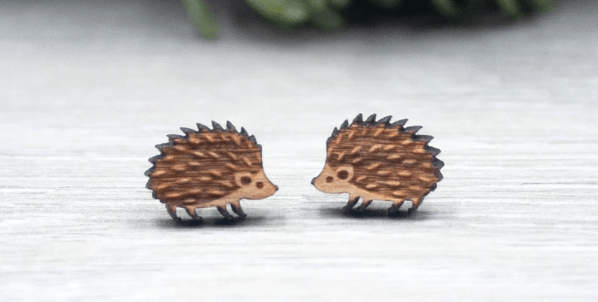 Hedgehog earrings that creatively use wood's texture after engraving. Made by IttyBittyFox
Engraved textiles
With gentle laser power, some natural and synthetic textiles can be engraved, too. The result can be used as a base for designing bags, apparel, and headwear.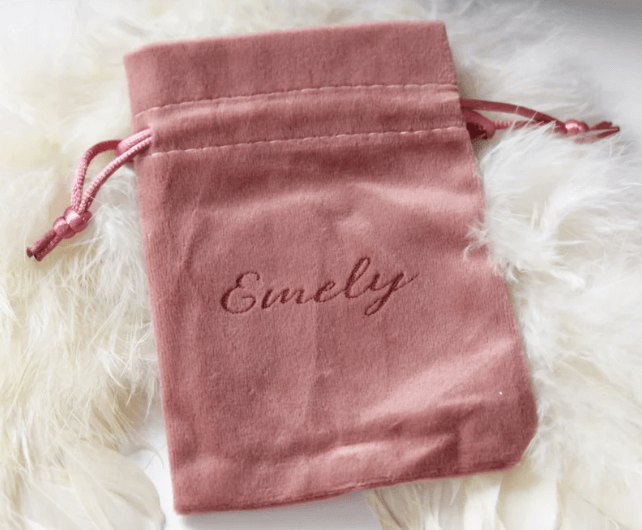 Velvet gift bag with personal engraving by HollyandPaul
One of the common creative uses of laser engraving is through working with transparent and translucent plastics. Acrylic glass and polycarbonate are two popular materials that are nearly optically clear and can be accurately cut into a design. While in the daylight it looks like a regular engraving, a small addition of colorful LED creates a truly magical item with the engraving lighting up.
Engraved sign by The Boulder Protoshop
These projects will require some skills in electronics to assemble them and ensure safe working. However, it is truly possible to make these at your small workshop. Alternatively, you can design a case itself for holding an electric candle.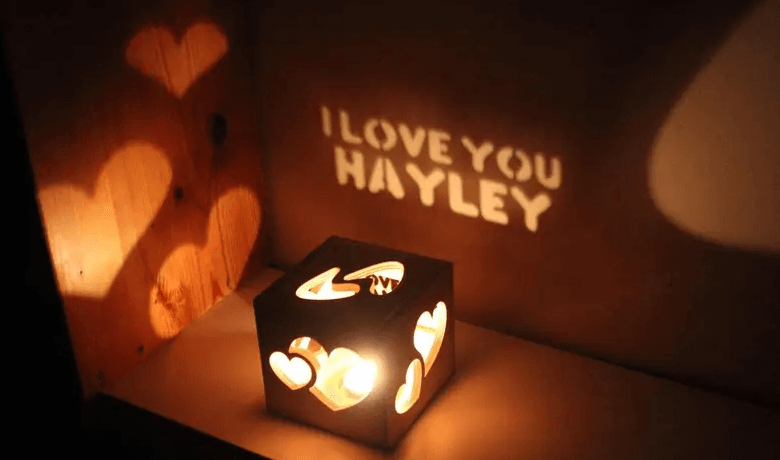 Creative use of laser cut holes to project a message by MagicWoOod
Pendant lighting
For those who feel brave, there are also larger projects for making pendant lights or chandeliers. That would include creating several panels that assemble into a final piece. Bigger pieces like these can make use of MDF panels when natural wood is expensive.
Simple yet stylish pendant light by Arteprint
Events and celebrations happen every day, and people love to bring a festive atmosphere in all the details. That's why there is much room for creative items that have seasonal or celebration purposes.
Paper Invitations and Covers
Paper is a common material we have around in our everyday lives. In crafting there are even more types of paper for all textures and colors. But adding a laser cutter to paper turns it into an art-like product. Paper invitations for events are extremely common and popular. And having a paper piece turned into an intricate design by a cutter will surely make an invitation stand out.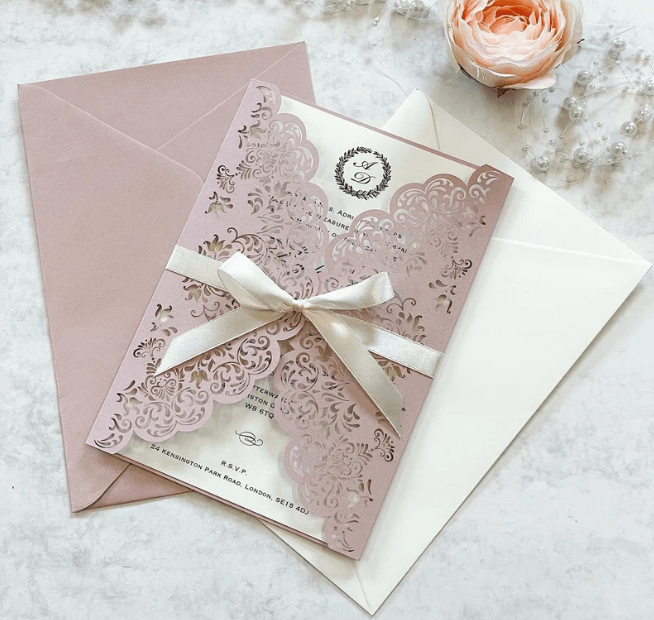 Laser cut covers by CardsPaperLove
Toppers and signs
Laser cut signs and toppers allow adding personality to an event. This can be someone's name or a word with good wishes. Cutters also can work with acrylic plastics, which are available with mirrored surface – the one that looks a lot like shiny metal.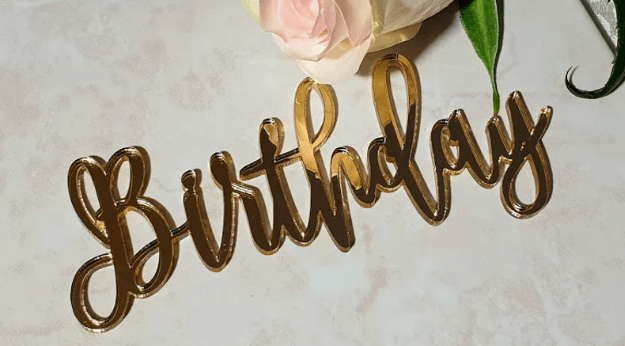 Mirrored acrylic sign by EngraveCelebration
Ornaments
Creative ornaments and garlands for holidays are other avenues to take. They are relatively easy to design and cut out with a laser. If you have a favorite season or holiday, you can channel that into the work.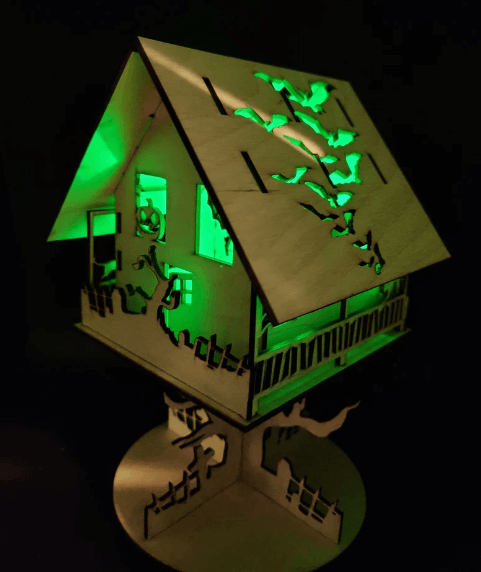 Halloween house with light by GeekDadLaser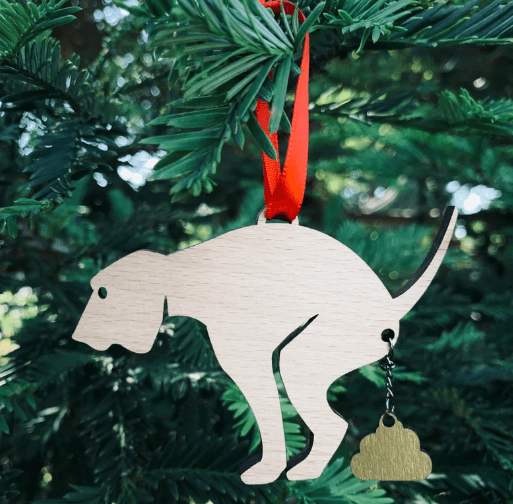 Christmas tree ornament by PoopingPooches
Crafting lovers and creative people usually like to do everything themselves. But they are also the ones to appreciate someone's design work. If you have a favorite hobby or activity and know what goes into it, making projects for it will be rewarding. And here are some examples of what you can make.
Stencils and Stamps
Stencils and stamps find many uses in bakery, painting, customizing apparel, scrapbooking, polymer clay sculpting, and more. While some simpler stencils or stamps can be made by hand, more intricate and accurate patterns are better to be cut with a machine. Using films, thin plastics, or rubbers, a laser cutter can help you make a wide range of stamps and stencils for a hobby.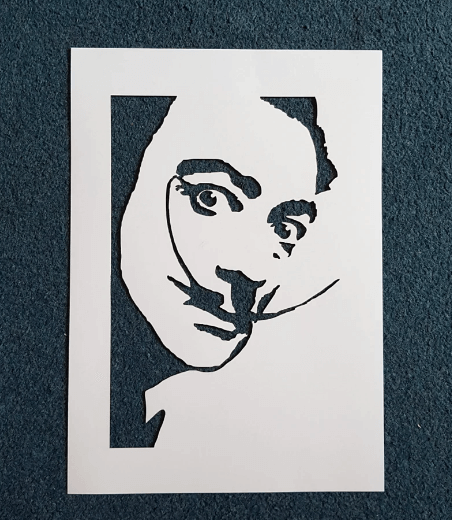 Stencil from mylar by ReflexionzCreations
Stands for craft and painting supplies
Organizers and stands for various supplies are in demand by many people. Hobbies with lots of supplies and small pieces require proper storage and management of all materials. But aside from organizing, these stands and holders can also bring a positive mood and fun to their owners.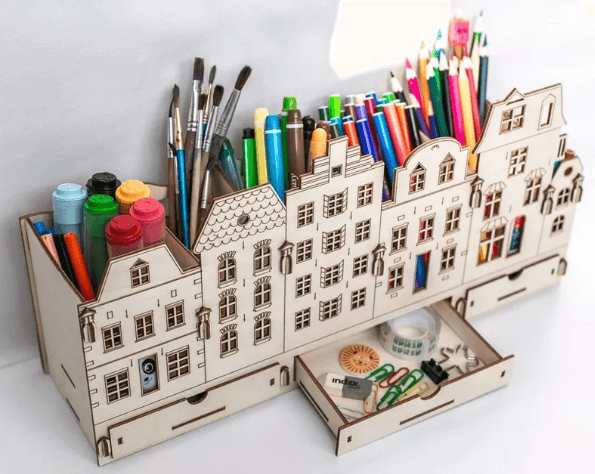 Organizer for writing supplies by drawArK
Garden tags
Laser cut tags and signs for garden or home plants can look simple and be easy to make. It is a fine starting point for newcomers to engraving and cutting.
Tags for herbs by BoldOutlookCreates
Garden and plant tags also aren't limited to a plant name strictly – they can also be fun.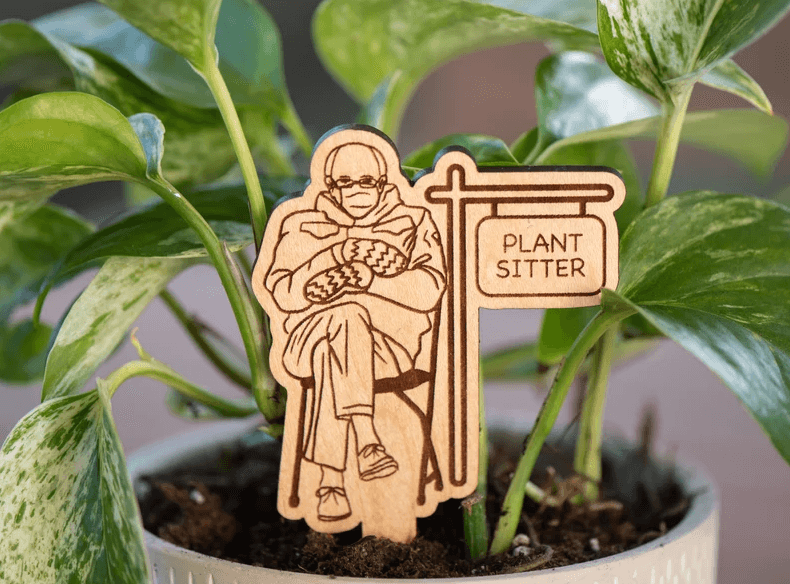 Bernie Sanders plant tag by ReeceDesignWorks
Albums and Planners
Albums, sketchbooks, and planners are popular in many crafts and hobbies from drawing to photography. And with a laser cutter, you can transform a regular album into a pretty accessory with a hardcover. You can choose to engrave leather or wood depending on your preference but the result still will be artsy.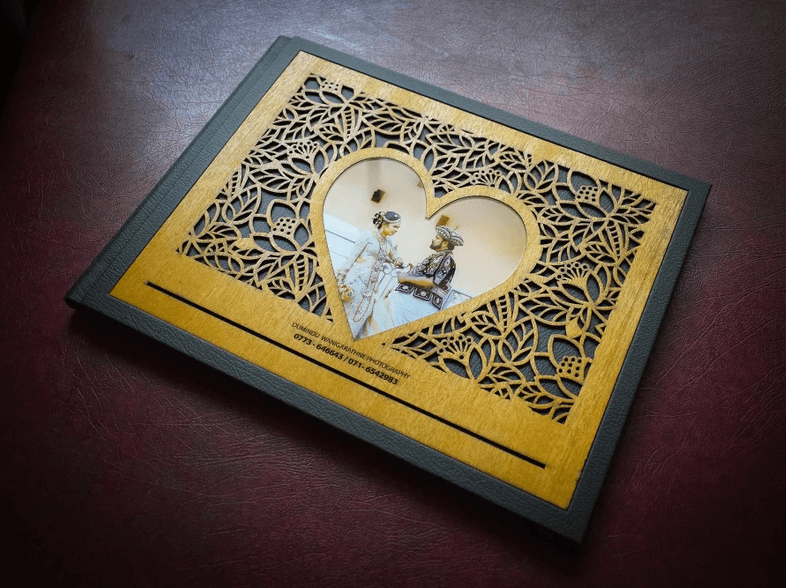 A wedding album by EyeDesignLK
STEM kits and constructors
If you have engineer tendencies, check out ideas for building a DIY kit. Laser cut wooden constructors can turn into an educational activity or a STEM project for the classroom.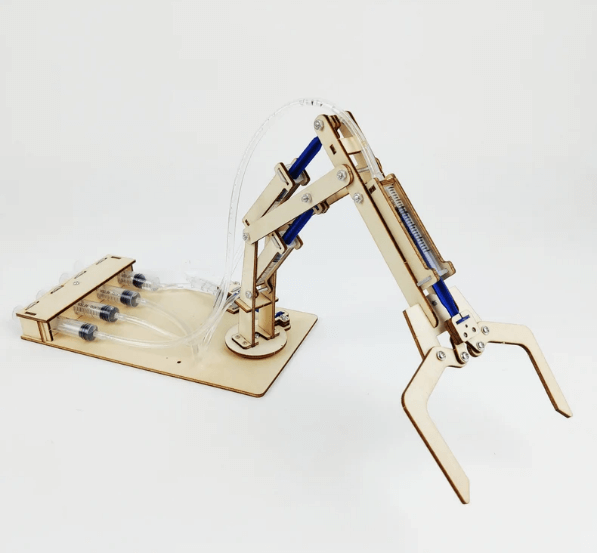 Hydraulic arm kit by XWorkbox
Bookmarks
Engraved bookmarks can use wood or combined mediums. Bookmarks have a simple form and small size, so they can be good practice for design skills, while still holding your unique design idea.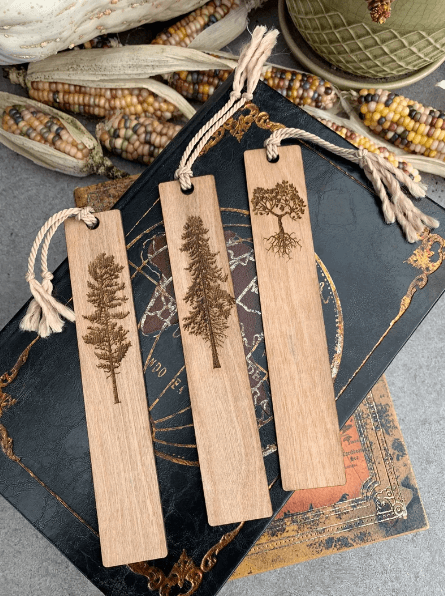 Wooden bookmarks with engraved trees by FarEtchedByTony
Creative goods made through engraving and cutting are quite popular. As far as high-quality sheet materials are used and the cutting is done skillfully, the results won't be worse than a product made by a big company. People buy such items for themselves, as gifts, or for an office or classroom.
If you are just starting with cutters and need some guidance, check out our article on laser cutting. And we also have a top list of the most popular cutters for a small workshop. Before investing in your cutter, you can also try on-demand services. They can create single parts for yourself or low runs, which is convenient for starting designers. Simply drop your vector files into our widget to get an instant estimate: